专辑英文名
: Tchaikovsky, Bartok - Violin Concertos
专辑中文名
: 柴可夫斯基, 巴尔托克 小提琴协奏曲
艺术家
: Isaac Stern
古典类型
: 协奏曲
资源格式
: FLAC
版本
: [24 bits 48 KHz]
发行时间
: 2013年09月24日
地区
: 德国
语言
: 英语
简介
: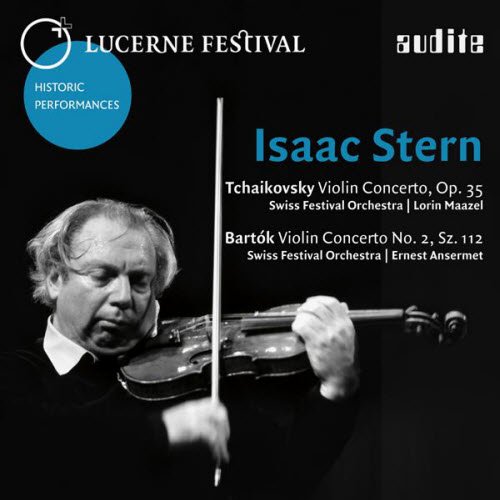 专辑介绍:
雪白的头髮、粗壮的体格、总是把眼镜放在额头上、嗓音低沉宏亮,无论他在哪里,艾萨克.史坦给人的形象永远如此鲜明。无论是舞台上的独奏家、大师班的讲课者、在麦克风或电视镜头的前方他总能侃侃而谈,彷彿他就是唯一权威。「让小提琴说话」是他简单的艺术原则。音乐家如果只会死板的演奏音符而忽略真正的音乐,对他来说是相当罪大恶极的事情。出於对纳粹政权的反感他从没在德国演出,唯一的例外是他2001年过世的前两年。他到德国并非演奏而是为了在科隆高等音乐院开授为期十天的大师班。相反地他倒是频频造访瑞士。从1948到1988年前后参加共十次的硫森音乐节,当中有独奏也有与他人合作室内乐。专辑内的巴尔托克和柴可夫斯基的小提琴协奏曲分别是1956和1958年夏天的演出,在他的录音专辑当中,现场演出一直相当稀少。两曲的乐团都是瑞士节庆管弦乐团,当时还是壮年的马捷尔指挥柴可夫斯基,这也是他在硫森音乐节首次登场。巴尔托克的小提琴协奏曲对当时的乐团而言还相当陌生,虽然因此在许多地方有明显的音準问题,第二乐章开头竖琴也失误提早一小节进来,这些瑕疵在安塞美眼中毕竟是小事,让乐曲保持张力甚至火花四溢才是他的真本事。两晚的演出他都获得媒体好评「艾萨克.史坦的詮释带有原始旺盛生命力的狂想观点与稳健积极的态度。令人激赏的完美技巧,纹理音色处在极佳的平衡,往后或许很难再听到这样的协奏曲演出了。」这些录音是史坦琴艺的巔峰期,让气力和张力发挥到极致有时难免得承担些风险,但是对他来说释放情感永远比音色优美来的重要。正是这种坚持导致他在巴尔托克第一乐章的结尾时E弦应声断裂断裂,是说他也不会因此而分心便是。当然和他同样作品的录音间专辑相比之下或许没那么完美,却有更多发自内心以及艺高胆大的精彩表现。这份录音是首次发行,弥足珍贵!
Bartók Violin Concerto No. 2, Sz. 112 recording 1956
Tchaikovsky: Violin Concerto in D major, Op. 35 recording 1958
Isaac Stern ? Ernest Ansermet (Bartók) ? Lorin Maazel (Tchaikovsky) ? Swiss Festival Orchestra
古典 CLASSICAL
琉森音乐节历史名演 Vol.2~艾萨克.史坦 LUCERNE FESTIVAL Historic Performances, Vol. 2~Isaac Stern 柴可夫斯基 小提琴协奏曲&巴尔托克:第二号小提琴协奏曲 Tchaikovsky: Violin Concerto & Bartok: Violin Concerto No.2 / Maazel, Lorin (conductor) 马捷尔 (指挥) Ernest Ansermet, conductor (1883-1969) 安塞美, 指挥 Stern, Isaac (violin) 艾萨克.史坦 (小提琴) Swiss Festival Orchestra 瑞士节庆管弦乐团
唱片编号:AUD95624
唱片公司:上扬
发行日期:2013-07-24
商品单位:1CD
商品条码 : 4022143956248
商品编号 : AUD95624
演奏者 : 史坦 Isaac Stern - 查看所有专辑
指挥家 : 马捷尔&安塞美 Lorin Maazel & Ernest Ansermet - 查看所有专辑
乐团 :
作曲家 : 柴可夫斯基&巴尔托克 Tchaikovsky & Bartok - 查看所有专辑
专辑名称 : 柴可夫斯基:小提琴协奏曲&巴尔托克:第二号小提琴协奏曲
Tchaikovsky: Violin Concerto & Bartok: Violin Concerto No.2
音乐类型 : 古典音乐 [CD 协奏曲]
发行公司/日期 : 上扬 2013/7/24
制作公司 : Audite
内含片数 : 1

Isaac Stern plays Tchaikovsky: Violin Concerto, Op. 35 and Bartók: Violin Concerto No. 2, Sz. 112
LUCERNE FESTIVAL Historic Performances, Vol. II
Live recordings with Isaac Stern are rarities. The concert recordings made in the summers of 1956 and 1958 at LUCERNE FESTIVAL are thus all the more valuable. Stern presents the Violin Concertos by Bartók and Tchaikovsky, proving himself to be a full-blooded musician ready to take risks: the results are highly expressive and rousing interpretations. more...
Isaac Stern
Schweizerisches Festspielorchester
Ernest Ansermet | Lorin Maazel
Peter Ilyich Tchaikovsky | Béla Bartók
Orchestra: Swiss Festival Orchestra
Conductor: Maazel, Ansermet
Composer: Bartok, Tchaikovsky
Audio CD (September 24, 2013)
Number of Discs: 1
Label: Audite
ASIN: B00DM4CF5Y
Average Customer Review: 5.0 out of 5 stars
Pyotr Ilyich TCHAIKOVSKY (1840-1893)
Violin Concerto in D Major, Op. 35 [32:38]
Béla BART?K (1881-1945)
Violin Concerto No. 2, Sz. 112 [36:59]
Isaac Stern (violin)
Swiss Festival Orchestra/Lorin Maazel (Tchaikovsky) Ernest Ansermet (Bartok)
rec. live, Kunsthaus, Lucerne, 23 August 1958 (Tchaikovsky) 18 August 1956 (Bartok)
AUDITE 95.624 [69:43]
Isaac Stern was a violinist with more than one string to his bow - if you'll excuse the pun. He was a multi-talented musician who forged a career as a soloist, chamber musician and teacher, and excelled in all three. Never one to be confined by limiting boundaries, his talents over-spilled into other areas. He sponsored and mentored young violinists, including the likes of Perlman and Zukerman. In 1960, he spearheaded a campaign, together with the philanthropist Jacob Kaplan to save New York's Carnegie Hall from demolition. Here he demonstrated his great organisational ability, highlighted by his shrewd networking and communication skills. As a friend of politicians and leaders, he was an inspiration behind the America-Israel Foundation which, to this day, provides scholarships for young musicians.
Born in the Ukraine in 1920, his family moved shortly after to the USA, where they settled in San Francisco. Of all his teachers, he credited Naoum Blinder as his most important influence. Whilst Stern specialised in the Classical and Romantic repertoire, he also had an interest in contemporary music, giving premieres of works by William Schuman, Peter Maxwell Davies and Penderecki. As a chamber musician, he established an enduring duo partnership with the pianist Alexander Zakin. He also formed a piano trio with Eugene Istomin (piano) and Leonard Rose (cello). They produced some very fine recordings of works by Beethoven, Schubert, Mendelssohn and Brahms.
The Audite label has just celebrated its fortieth birthday and coinciding with this is releasing, in collaboration with the Swiss Festival authorities, a series of live broadcast recordings from the Lucerne Festival. The aim is to make available some of their vast archive, selecting performances of artistic merit by great concert artists. Most of these are seeing the light of day on CD for the first time. Many will be overjoyed to have these two Stern events, as live representations of the violinist are very sparse in his discography. Also, it is good to hear Stern at his zenith, when he was technically on top form. In later life, his instrumental facility became somewhat hampered by lack of practice due to his multitude of other interests.
He was a regular guest at the Lucerne Festival and appeared ten times between 1948 and 1988, both as soloist and as chamber musician. What we hear on this CD dates from the 1950s; the Bartók from 1956, conducted by Ansermet, and the Tchaikovsky from two years later with the young Maazel, who was making his Lucerne debut at this very concert.
Stern had a particular affinity for the Mendelssohn and Tchaikovsky concertos. Indeed the latter he recorded three times. For my money his 1958 studio recording with Ormandy and the Philadelphia is the most rewarding. The instance featured here is strongly argued and virile, at times gripping and highly charged. Stern is all passion and burnished intensity. The second movement is ravishingly played, with the melancholic and reflective qualities emphasised. In the third movement, he ratchets up the energy, with scintillating élan, rhythmic drive and technical brilliance. Maazel provides admirable support.
The Bartók second was a relative novelty in the 1950s. Composed in 1937-38, and dedicated to the Hungarian violinist Zoltán Székely, it was premiered in Amsterdam the following year with Székely and the Concertgebouw conducted by Mengelberg. Prior to this Stern concert, the Swiss Festival Orchestra had played the concerto with Menuhin in 1947. Again, the conductor was Ansermet. Their relative unfamiliarity with the score manifests itself in some intonation problems with the orchestra, and a premature entry of the harp at the beginning of the second movement. Apparently, Stern's E string broke at the end of the first movement, but in no way did this throw him off course. This is extremely compelling and satisfying playing.
Stern's robust and muscular tone is ideal for this concerto. His impulse-type vibrato allows him a range of tonal colour well-suited to a canvas such as this. Similarly, his bow arm enables a powerful sonority. Hwhat we hear is idiomatic, stylistically nuanced and technically secure. Like Menuhin, who has championed this concerto, with several recordings under his belt, Stern's eloquent, expressive phrasing emphasises the rhapsodic nature of the work. All of these elements are more evident and to the fore than in his studio recording with Bernstein and the New York Philharmonic from 1958, which is in less than ideal sound and balance.
Considering that these performances originate from the mid-1950s, they are in remarkably good sound and form very welcome additions to the violinist's discography. Norbert Hornig has provided some very enlightening and informative liner-notes. I eagerly await other treasures emanating from this source.
Stephen Greenbank
Label: Audite ?– audite 95.624
Format: CD, Remastered, Mono, digipak
Country: Germany
Released: 2013
Genre: Classical
Style: Romantic, Modern
Companies, etc.
Recorded At – Kunsthaus, Lucerne
Copyright ? – Ludger B?ckenhoff
Manufactured By – Arvato
Credits
Art Direction – AB?Design
Liner Notes – Norbert Hornig
Liner Notes [Research & Booklet Editor] – Malte Lohmann
Liner Notes [Translated Into English] – Viola Scheffel
Liner Notes [Translated Into French] – Sylvie Coquillat
Orchestra – Swiss Festival Orchestra*
Recorded By – SRF*
Remastered By – Ludger B?ckenhoff
Violin – Isaac Stern
Notes
Total Time: 69:43
Lucerne Festival Historic Performances recorded live on 23rd August 1958 (Tchaikovsky) and 18th August 1956 (Bartók)
Previously unreleased
Liner Notes in German, English and French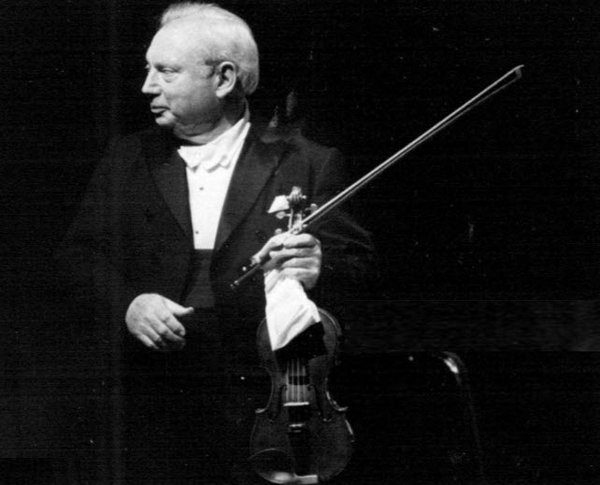 Isaac Stern (Russian: Исаа?к Соломо?нович Штерн; Isaak Solomonovich Shtern; 21 July 1920 – 22 September 2001) was an American violinist and conductor.
专辑曲目
:
Violin Concerto In D Major, Op 35
Composed By – Pyotr Ilyich Tchaikovsky
Conductor – Lorin Maazel (32:38)
1. I. Allegro Moderato - Moderato Assai 16:59
2. II. Canzonetta. Andante - Attacca Subito 6:25
3. III. Finale. Allegro Vivacissimo 9:14
Violin Concerto No. 2, Sz. 112
Composed By – Béla Bartók
Conductor – Ernest Ansermet (36:59)
4. I. Allegro Non Troppo 15:39
5. II. Andante Tranquillo 9:47
6. III. Allegro Molto 11:33